The Bermuda Police Service Can Offer YOU ...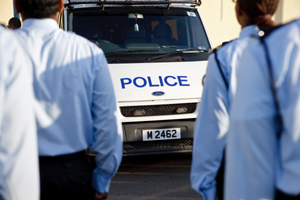 A rewarding, exciting and challenging career in public service. Policing is very important to the people of Bermuda. They need and expect policing that is focused, disciplined and effective. The economy of Bermuda relies on tourism and financial services. These industries are reliant on several essential ingredients - economic and political stability, a relatively low incidence of crime, a high degree of safety and high levels of public confidence. A thread that runs through all of these is the need for the presence of an effective police service working with the community, for the community.
Are YOU The Person We're Seeking?
The answer is YES if:
You are between 19 and 49 years of age (16 and 21 for Cadet Programme)
You are a Bermudian, the non-Bermudian spouse of a Bermudian, or a resident non-Bermudian
You possess a school-leaving certificate with good academic standing
You are committed to serving your community and upholding the law
You are honest and possess a high degree of integrity
If you are all of the above and a team player, highly motivated, decisive, calm under pressure and possess good interpersonal skills, we'd like to hear from you.
Our TRAINING Programme
You will spend 16 weeks in our Training environment at Prospect on a Recruit Foundation Course.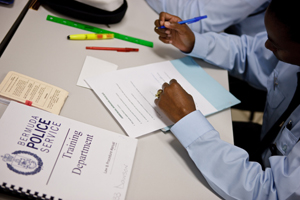 This course will equip you with the knowledge and skills to perform a range of policing tasks. Much emphasis will be placed on your ability to perform these tasks to a competent level. The focus of the training is on your development, your behaviour, and how you perform under a range of circumstances. The training staff work closely with you and provide feedback on your performance.
During the course, you will receive training in the use of police batons, handcuffs and officer safety. You will also undergo training on diversity issues and Emergency Level First Aid. We stress the importance of a candidate's ability to make decisions, to display leadership, to communicate effectively and to handle people and issues sensitively and with tact.
You will also receive instruction on the police radio and computer systems. Towards the end of the Recruit Foundation Course, you will participate in training exercises with experienced Constables who will help you make the transition to operational policing.
We'll HELP You
Our Recruiting Officer will advise you on how to best prepare yourself to meet the requirements of the recruit selection testing, including the PIRT (Police Initial Recruitment Test) and the physical fitness aspect.
Take a CLOSER Look At What We Have To Offer!
Challenging careers for men and women in the wide range of jobs within the Police Service
An outstanding training programme
Starting salary & benefits = approximately $70,000
Progressive promotion prospects
Excellent benefits, health/retirement/pension plans
Private sports and recreation facilities
Maternity and paternity leave
If a career offering excitement, challenge and opportunity appeals to you, submit an online application.
The Bottom Line
This is not a job for everyone. It can be tough and demanding. It takes self-discipline and hard work. But it can also give you the sort of satisfaction that no other job can offer. You will have a chance to get involved with life in a way that few people can ever do. It is a career of which to be proud.
For more information on a career in the Bermuda Police Service, call or write to:
Police Recruitment Officer
Bermuda Police Service
P.O. Box HM 530
Hamilton, HM CX
Bermuda
Telephone: (441) 247-1785
E-mail: recruiting@bps.bm