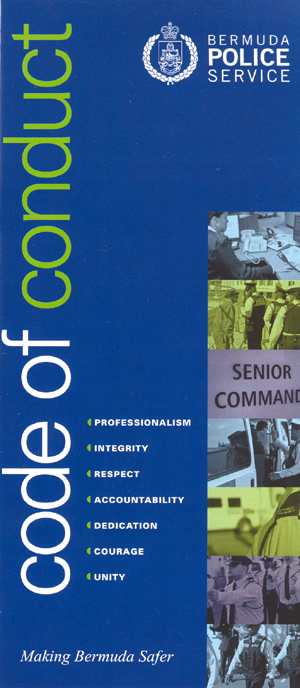 The Code of Conduct is available in PDF format, which requires Adobe Reader.
On Tuesday, August 17th 2010, Commissioner of Police Michael DeSilva in a joint press conference with Police Complaints Authority (PCA) Chairperson Michelle St. Jane and PCA member and ex-Magistrate William Francis announced the implementation of a formal Code of Conduct for the Bermuda Police Service. For the complete Code of Conduct, please click the brochure on the right. The Commissioner's statement in full is below:
In January I published the Annual Policing Plan in which we identified the four areas that we would improve this year: PEOPLE, PARTNERSHIPS, PRIORITIES and PERFORMANCE. In terms of the PEOPLE component, our staff are critical to the mission of Making Bermuda Safer. We are committed to develop all our staff to achieve high standards of competency and performance. The benefit back to the police comes in the form of public trust, confidence, cooperation and support.
I am pleased to announce today that we have implemented a Code of Conduct for Police Officers that gives formal direction to our members on the performance of their duties. The Code is a series of 50 statements of ethical behaviour that is expected from police officers.
The 50 statements are principles that are based on the Service's Core Values: (Professionalism, Integrity, Respect, Accountability, Dedication, Courage and Unity).
The content of the Code is not new to the Bermuda Police Service; we have just codified the behaviours that are expected, or prohibited in some cases, both on and off duty.
Most of the behaviours centre around treatment of other people and the professional conduct that sits behind the services we provide to the public: we are making a huge investment in training all our staff to raise their standards when handling telephone calls and face to face interactions with the public. Additionally, we have formalised the process for disqualifying officers from being involved in cases where there is a relationship such as a family member or friend. We have also specified, categorically, that business or personal relationships with known criminals and gang members will not be tolerated.
In terms of accountability for breaching the Code, our first approach is always interventions and consequences. This includes training and counselling – the idea is to encourage officers to change their behaviours positively. For serious cases, officers will face disciplinary measures under the Discipline Code where the punishment is on a sliding scale from an admonishment to dismissal.
The Code of Conduct was developed in consultation with the Police Complaints Authority and I am delighted to have the Chair and other members here today to release the document publically. The value of the Code extends beyond the direction it gives to police officers; members of the public should know what behaviours to expect from their police officers, and they should be assured that officers remain accountable for their actions when providing policing services.