LATEST NEWS, inside the BPS
Six Men Arrested in Connection With Recent Robberies
Wed, 2018-08-22

Commissioner of Police Mr. Stephen M. Corbishley – Thank you ladies and gentlemen. An update since my briefing yesterday.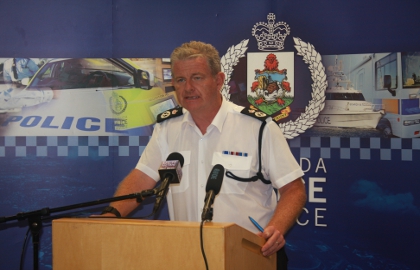 I'm pleased to report to you that in the past 24 hours six persons have been arrested and are now in the custody of the Bermuda Police Service.
We believe that they are involved in the robberies that I touched upon yesterday, particularly the one at Somerset Bridge and also the one at Frog Lane.
Man Arrested in Connection With Assault on Woman in Warwick
Tue, 2018-08-21

Around 12:10am today (August 21st) police officers and ambulance personnel responded to a residence in the Tribe Road #7 Warwick area, following a reported assault at a nearby Lemarc Estate, Warwick home.
A 29 year old woman received injuries to her head and arm in the incident – apparently caused by a bladed article – but remained conscious and alert.
She was transported via ambulance to King Edward VII Memorial Hospital for treatment of her wounds and later discharged.
Press Conference Regarding Recent Robberies [Updated]
Tue, 2018-08-21

Commissioner of Police Mr. Stephen M. Corbishley – Good afternoon gentlemen.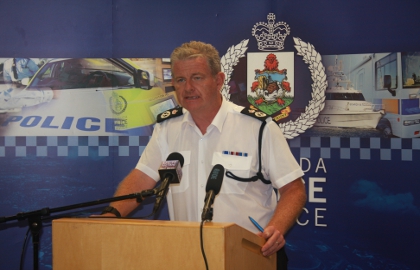 The purpose is to make an appeal to the public around a concerning crime trend we've seen develop over the past couple of weeks.
So far we've had nine robberies involving motorcycles normally involving two males described as black males on mopeds committing nine offences.
Robbery Outside Somerset Four Star Pizza Early This Morning [Updated]
Tue, 2018-08-21

Around 1:15am today (August 21st) police officers responded to a reported robbery outside Four Star Pizza on Somerset Road in Sandys parish.
It appears that a male suspect wearing a black shirt and green shorts approached a 43 year old male member of staff sat on a motorcycle (preparing to leave) outside the premises and demanded money, while hitting the employee with a piece of wood.
Two Hand Guns Recovered
Sun, 2018-08-12

Assistant Commissioner of Police Mr. Martin Weekes - The Bermuda Police Service (BPS) have recovered two handguns this week both thanks to assistance form the public.
The first recovery was made on Tuesday 7th August, when a member of the public discovered a hand gun in the St. David's area and alerted police.
The second recovery was made on Wednesday 8th August after a member of the public alerted police to a hand gun found in the waters off of South Shore.
Investigation Into Chain Snatching Incidents
Wed, 2018-08-08

Police are currently investigating two incidents of chain snatching, which took place on South Road yesterday 7th August, in a short space of time.
Around 10:00am the male victim was travelling east along South Road, Paget near Stovell Lane, when two men on a motorcycle road alongside victim, grabbing ahold of the chain around his neck. They were unsuccessful in their attempt to take the chain, but were able to make good on their escape, traveling in an easterly direction along South Road.
Altercation at Paradise Lakes
Mon, 2018-08-06

The Bermuda Police Service is aware of several videos circulating on social media in relation to an altercation on the water in the area of Paradise Lakes shortly after 8pm on Sunday 5th August.
As a result of this incident, two men and a woman attended KEMH and were subsequently released following treatment.


BPS PHOTOS


BPS TWEETS


bps facebook

security advice for women

Reduce the risk of
becoming a victim of crime with
these simple tips.
Read More >>

robbery prevention

Take steps to reduce the
opportunities for criminals to steal.
Read More >>