LATEST NEWS, inside the BPS
Upcoming Road Sobriety Checkpoints: March 22nd – 24th
Mon, 2019-03-18

The Bermuda Police Service would like to advise the public that the next series of road sobriety checkpoints (as specified in the Official Gazette Notice Thursday, March 14th) will be conducted starting this Friday, March 22nd.
The checkpoints will be in effect in Hamilton parish, Devonshire, Pembroke, Paget, Warwick and Southampton on Friday, March 22nd, Saturday, March 23rd and Sunday, March 24th.
Recruit Foundation Course 79 Passing Out Parade
Sun, 2019-03-17

At 4pm Friday, March 15th the Passing Out Parade for Recruit Foundation Course 79 took place at Police Headquarters in Prospect, Devonshire. In attendance at the ceremony were several dignitaries including:
His Excellency, The Governor, Mr. John Rankin CMG
Minister of National Security the Hon. Wayne M. Caines JP MP
Official Launch of Parish Constables & Community CID Officers
Fri, 2019-03-15

The official launch of the Parish Constables and community Criminal Investigation Department (CID) officers (West & East) was held 5:30pm Thursday, March 14th at Police Headquarters in Prospect Devonshire.
Dignitaries on hand for the official launch included His Excellency the Governor, Mr. John Rankin CMG, the Minister of National Security the Hon. Wayne M. Caines JP MP and the Commissioner of Police Mr. Stephen Corbishley – as well as community partners, family and friends.
Attempted Robbery at Bo's Lawn & Gardening in Warwick
Wed, 2019-03-13

Approximately 2pm today (March 13th) police officers responded to a report of an attempted robbery at Bo's Lawn and Gardening, Middle Road, Warwick.
The suspect did not display a weapon nor obtain any items. He was challenged by the 33 year old male owner and a struggle ensued on premises.
The suspect broke free and subsequently ran off.
12 Police Recruits on Recruit Foundation Course 79 SCARS Certified
Tue, 2019-03-12

The Bermuda Police Service (BPS) has traditionally supported SCARS (Saving Children And Revealing Secrets) Bermuda by conducting that specific training delivered as a supplement to our normal training regime.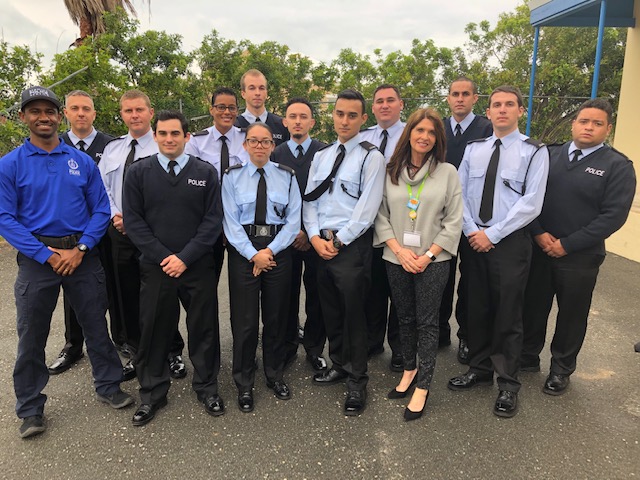 Since 2015, the BPS has had approximately 400 members of staff SCARS certified.
Today (March 12th) for the first time, the BPS has delivered the training as a mandatory part of our initial Recruit Training Course.
As a result, twelve BPS recruits will be entering their policing careers SCARS certified.
Investigation Continues Into Armed Robbery at Ord Road Mini Market
Mon, 2019-03-11

The investigation continues regarding a reported armed robbery at the Ord Road Mini Market in Paget and police are following very specific lines of inquiry.
Detectives are keen to talk with members of the public who may have seen anyone in the area acting suspiciously before, during or after the incident. Anyone with any relevant information is asked to call the Criminal Investigation Department on 247-1744.
Robbery on Ord Road: Cash Taken, No One Injured [Updated]
Sat, 2019-03-09

Police responded to a report of a robbery that took place on Ord Road in Paget.
Details are still emerging but it appears that at 8:30am today (Saturday), a male entered "The Minimart" on Ord Road in Paget and brandished what appeared to be a bladed article and demanded money.
He was given an undisclosed amount of cash and he then left the area on foot.


BPS PHOTOS


BPS TWEETS


bps facebook

security advice for women

Reduce the risk of
becoming a victim of crime with
these simple tips.
Read More >>

robbery prevention

Take steps to reduce the
opportunities for criminals to steal.
Read More >>